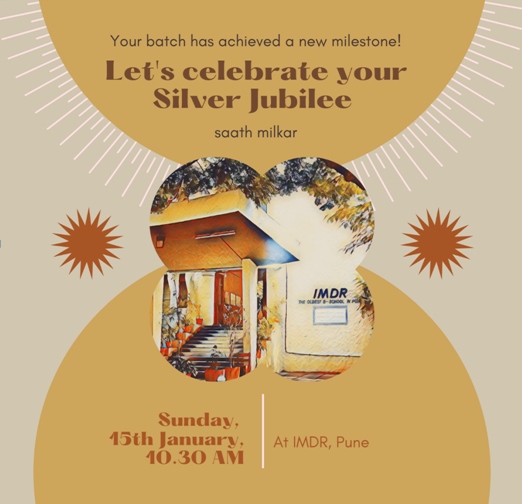 Invitation for Silver Jubilee celebrations for the Batch of 1995-97 and 1996-98
On January 15, we celebrate the birth anniversary of our founder director Dr.P.C.Shejwalkar as Entrepreneurship Day. Various activities are planned under Dr.P.C.Shejwalkar Centre for Entrepreneurship and Innovation, which is our on campus business and technology incubator. Click for Program Outline.
We are excited to host your silver jubilee batch meet. Your presence on campus and joining the celebration of the spirit of entrepreneurship will make the events very special. You are requested to register for the event through the Registration Link.
Alumni Meet Programme
Time
9.30am-10.15am
10.30am-10.35am
10.35am-10.45am
10.45am-10.50am
10.50am-12.00 noon
12.00noon-12.30pm
12.30noon-1.00pm
1.00pm
Details
Registration
Welcome address
Address by Director
Nostalgic Moments…Down the memory lane
Cultural performances
Alumni Interaction
Campus Walk
Brunch / Refreshments