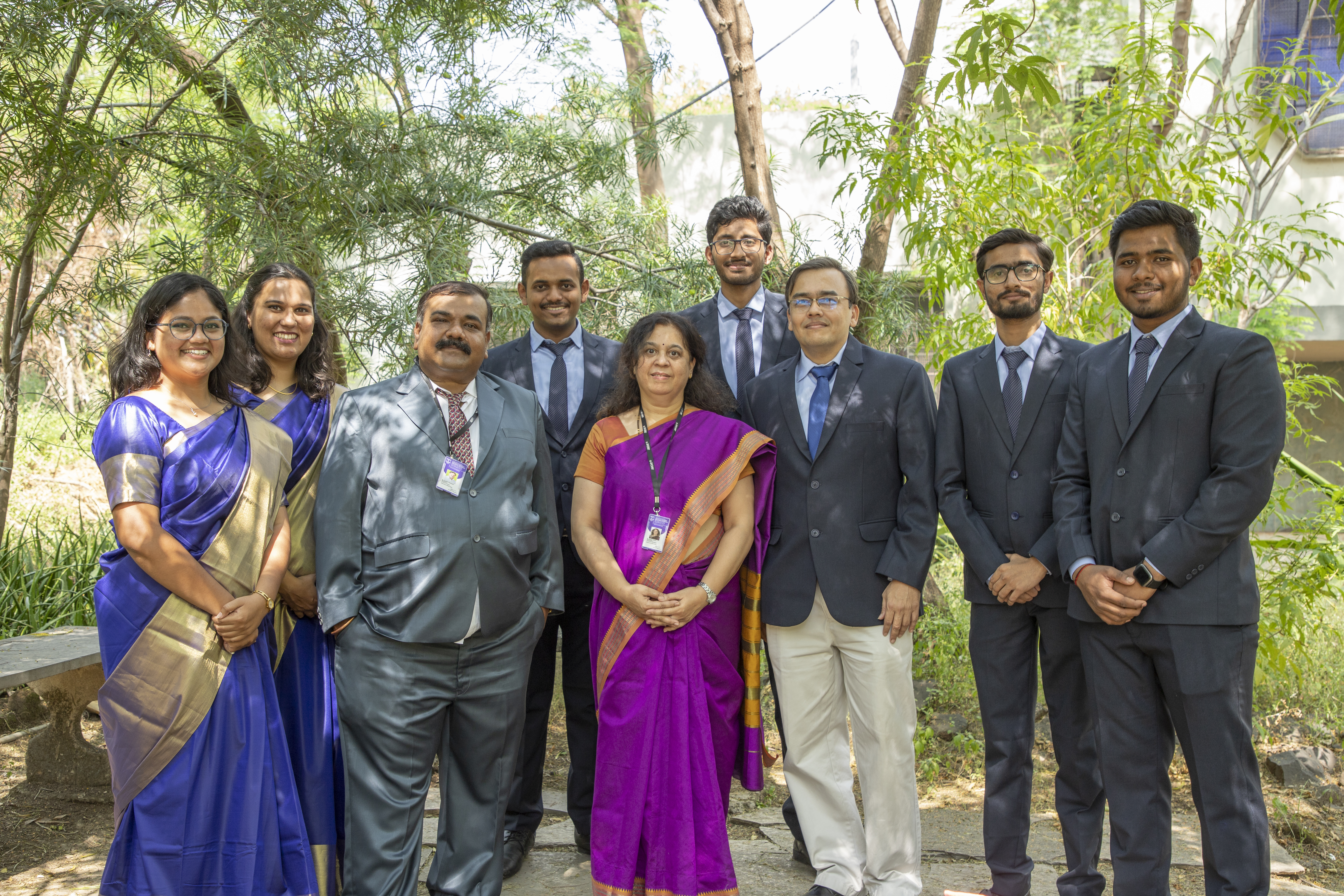 Message from Placement Committee
Dear Recruiters,
Deccan Education Society's Institute of Management Development and Research (IMDR®) Pune is a pioneer in management education in Pune. We envision ourselves as a community of students, faculty, staff, and alumni, striving to be vibrant with learning processes; towards creating an exciting work and educational environment. At IMDR®, we believe it is our mission to help our students to become thoughtful and sensitive professionals with a commitment to simultaneously contributing to the environment and self.
The pillars of the learning processes at IMDR® are: Learning to learn, Instructional Systems Design Methodology, Reflection and Relatedness.
Academic excellence under the guidance of faculty and industry professionals including alumni mentors, along with extra and co-curricular activities, completes the process of education. Additionally, we equip our students with innovative certifications and training. Students get first-hand training on ERP systems under the SAP University Alliance programme on modules in SCM, HR, and Marketing. Value-added programs like certifications from BFSI, provide our students with in-depth knowledge of the financial sector. Our collaboration with Swayam-NPTEL, Coursera, and edX gives our students access to innovative and contemporary learning resources from India and overseas to make them industry-ready.
Our curriculum is based on the scientifically validated Instructional Systems Design Methodology (ISDM). This enables forward and backward linkages of subjects across semesters, through learning outcomes. This leads to effective learning for students and is particularly important as management is an interdisciplinary field of practice.
Students work on various committees including placements, alumni connect, publications, entrepreneurship and innovation, cultural activities, and sports. This helps build leadership skills and the ability to work in teams.
IMDR® offers dual specialization to students wherein they have a major and minor specialization area. Of the twelve elective subjects, eight are in the major specialization and four are in the minor specialization. This gives students the ability to perform tasks in more than one domain in their entry-level jobs and enhances their value. Students have diverse graduation backgrounds and have done their six-month extensive internship in different industry sectors. These include domains such as Consulting, BFSI, Manufacturing and Media. This helps students to train holistically for their careers in the corporate world. This year onwards we are having a strong resource pool of 180 students (against 120 in earlier years) to pick a matching fit for your specific demand. The present batch includes 13% engineers, 10% science graduates, 40% commerce graduates and 34% BBA graduates. We are a gender-diverse campus. Over 25% of our students have work experience ranging from 1-4 years. We believe all this will equip our students to contribute positively to the workplace and your organisations' growth.
We are looking forward to establishing a mutually beneficial relationship with your esteemed organization.
We welcome you to IMDR for the Campus Recruitment Process for the academic year 2022-2023.
Dr. Giribala Dewasthale
Head of placements Prashant Dhopavkar
Dr. Parikshit Mahankal, Faculty

Dr. Prashant Dhopavkar, Faculty
Dr. Sanmath Shetty, Faculty 
Student Coordinators: Junal Vyas, Kartik Mudaliar, Ruta Padhye, Pruthviraj Chavan, Suyash Waghmare