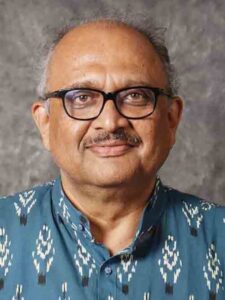 Dear Students,
Deccan Education Society (DES) is known for its unwavering commitment to ideals and values since 1884, we have been dedicated to providing affordable, modern, and high-quality education and training. 
Our vast network encompasses approximately 60 institutions, including schools and colleges, spread across Pune, Mumbai, Sangli, Satara, Shirur, Wai, Kurul (Alibaug), and Tirupati. Within this expansive educational landscape, we have meticulously crafted a conducive learning ecosystem at each centre to empower our students to thrive in a fast-paced and dynamic environment.
The Institute of Management Development and Research (IMDR®), an integral part of DES, stands as a pioneer in the realm of management education in Pune. Since our inception in 1974, we have steadfastly pursued our vision of "striving to be vibrant with learning processes", aiming to nurture thoughtful and socially responsible professionals and business leaders. Over the course of five decades, we have proudly contributed job creators and solution providers to both the corporate world and the broader community.
Our foundational belief is that Bharatiya values are the cornerstone of our identity and our future. This belief forms the essence of our academic and supplementary processes. At IMDR, learners are mentored by seasoned experts, guiding them towards achieving their career aspirations and success in the competitive marketplace. The unwavering confidence and support of our industry and society stakeholders have been instrumental in our ongoing improvement and development.
We invite you to immerse yourself in the academic prestige and rich legacy of IMDR, where Bharatiya tradition seamlessly merges with contemporary knowledge and tools to shape a holistic educational experience.
With warm regards,

Mahesh A. Athavale
Chairman, Board of Management-IMDR
Trustee, Deccan Education Society (DES)
Member, Council and Governing Body, DES