Library
The Library aims to provide information services to the students, faculty and management professionals. It spans over an area of 3570 sq. ft. It distinguishes itself from other management libraries due to a variety of reference sources from various disciplines. IMDR consists of students, staff and faculty striving to be vibrant with the learning process and committed Management Education which contributes to more enlightened management practice. It is the library which through its enriched resources and enhanced services always strives to be supportive to this process.
COLLECTION
IMDR Library has a total collection of about 17896 books and reference sources, 841 CD's, 265 DVD's, 1302 seminar reports/ working papers, 364 audio-visual cassettes. There are 125 periodicals and bound volumes of some prominent journals for over 12 years. It has 8 English and 5 local language newspapers. Both these are preserved for 6 months & 3 months respectively.
The policy of the library has been to make collection mainly in the field of management and its allied subjects. More importance has been given to build a collection of classics in the various areas of social science and general management and at the same time the textbook procurement being kept to the minimum not making it a textbook library.
| Media | Holdings |
| --- | --- |
| Articles | 7417 |
| Audio / Video Cassettes | 364 |
| Books | 17896 |
| Bound Volumes of Periodicals | 427 |
| CD | 841 |
| DVD | 265 |
| Other Media | 1983 |
| Project Reports | 438 |
We subscribe to 21 both Foreign Journals and Indian journals. The library has 20 e-journals and 24 magazines.
Institutional Membership
MCCIA
CII
MANLIBNET
AIMS
Business Analytics Society of India
NIPM
AIMA
BFSI Skill Sector Council of India
The IMDR Library has open access to all its members.
Student Membership
For IMDR students
One reader ticket allowing 6 books/CDs and 3 back issues of magazines borrowed out of the library.
Access to certain electronic services from within the library.
Photocopying in accordance with copyright.
General reference assistance at the library desk.
Services
Bibliographic Information
Bibliographic and orientation instructions are given to new members when they join IMDR, to assist them in getting acquainted with the library, its location, collections and electronic resources. A demonstration of the WEB-OPAC computerized system for locating books, journals, case studies, etc, can also be arranged on request. The library staff, available at the reference desk, provides assistance to anyone needing extra training using WEB-OPAC, in addition the staff help users locate books and reference material in the stacks. Computer terminals are available until 15 minutes before the library closes. Patrons can use the workstations for searching the catalogue and other information.
Photocopying
There are copiers available in the library building
Scanning
Library has an image scanner for students
Document Copies from Reference Sources
Single copies of articles can be requested from our collection. Copies obtained through this service may only be used for private study or for research purposes.
Research and training
The librarian can provide research assistance and advice on library databases and arrange training sessions on library databases on request.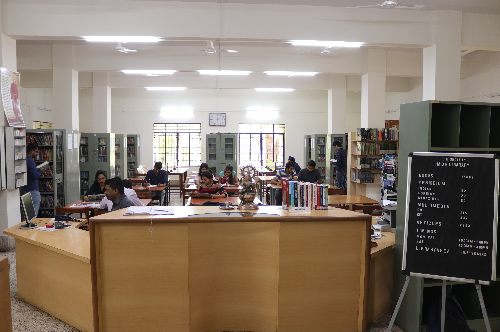 Multimedia Section
The Library has a multimedia section where members can view and listen to the CD/DVD's available in the library with the help of headphone devices.
Electronic Databases
IMDR Library subscribes to databases:
Online Databases
EBSCO's eBooks BusinessCore Collection
BusinessCore Collection provides high-quality business e-books to broaden the knowledge across all disciplines of business, including leadership, sales and marketing, human resources, finance and project management. Equips students and faculty with access to thousands of e-books dedicated to the study of business. From conducting business research to helping students understand general business concepts, this collection offers the in-demand titles the library needs
JGate EJournal Gateway
J-Gate is an electronic gateway to global e-journal literature. Launched in 2001 by Informatics India Limited, J-Gate provides seamless access to  millions of journal articles available online offered by 12,918 Publishers.It presently has a massive database of journal literature, indexed from 59,682 e-journals with links to full text at publisher sites. It contains Table of Contents (TOC)- For 59,682 e-journals andit is a comprehensive searchable database with 74,071,194 articles, with 10,000+ articles added every day.