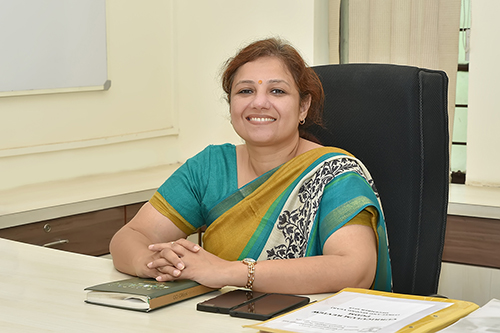 Greetings from IMDR!
It is with great pleasure that I present you the 48th batch of IMDRites, the class of 2021-23
IMDR® is a wonderful place for aspiring managers from diverse backgrounds to grow educationally, co-create the knowledge environment, have a meaningful learning experience, and achieve their individual success. Developing them is a team effort. We endeavor to craft a learning space where every student is extended the necessary attention.
Our curriculum, course offerings, co- and extra-curricular offerings, and pedagogy are second to none. This is made possible by strong partnerships that are developed with our stakeholders-corporates, academic bodies, and business as corporate.
In every way that B-schools are measured, whether it is academically, in co-curricular activities and events, or in sports or cultural activities, IMDR® excels.
As you browse the pages of this compilation, you will notice the wealth of opportunities offered to our students. We encourage them to take advantage of the possibilities and become involved in myriad activities. When students support their academic effort with sports, music, drama, and institute-sponsored events, scholastic achievement improves. When students become involved in becoming involved, it teaches them to budget their time, enables them a productive use of their time, and holds them in structured, supervised settings with their peers with similar values and goals.
I invite you to view the profiles of aspiring managers in this brochure. I am certain you will find bright, versatile, and committed young minds to take your corporate growth story forward
I welcome you to our Institute and look forward to your participation in our Campus Placement Program.
Dr. Shikha Jain
Director, IMDR