Invites you to be a part of Entrepreneurs' Day
Background
To encourage Entrepreneurship and innovations DES's IMDR is organizing Business Plan competition and 100 RS. Entrepreneur competition in January 2022. Through Business Plan competition, we aim to provide the ideas a necessary platform to become visible and to seek support. Business Plan Competition will not only give the participants an opportunity to interact with seasoned entrepreneurs, but also network with many other innovators like them, understand their strength and challenges and enhance their own learning. Through 100 Rs. Entrepreneur, students will get an opportunity to test their ideas and selling skills.
When – Saturday, February 26, 2022, 11 am.
Venue – DES's IMDR, Fergusson College Campus, Agharkar Road, Shivaji Nagar, Pune.
Business Plan Competition
Eligibility :- No age bar- Participation is open to all. Individual or Team Participation (Maximum Team size 5)
First Round - Initial Screening : - Participants are expected to submit a short video of maximum 3 minute along with a one page write up about the details of the idea by February 20, by filling the form
https://forms.gle/KDeJPeBfKgPbaHkA9
In the video the participant would be talking about his/her idea answering the following
Whether product/service?
How can it benefit the society?
Which problems can be addressed by the idea?
Who would be the target customer segment?
Is there any existing/competitive product or service in the market currently?
What is the current stage of innovation?
How long will it take to commercialize?
Whether the participant is also looking for some investment?
Second Round - Exhibit : - Short listed candidates from the screening round would participate in the Exhibit round either physically or virtually. They would be demonstrating their idea during this round. Use of charts, presentations, roleplay, demo, prototype display, animated display can be used.
Final Round - Question and Answer : - Selected candidates from the exhibit round will participate in the Question and Answer round with experts from industry with entrepreneurial background. Here the ideas will be judged on the basis of feasibility and readiness. Participants are encouraged to be prepared with detailed operational, financial, marketing feasibility study at this stage.
Winners from the final round will receive training and mentoring support along with cash prizes.
Rewards and Benefits :- Winners of the Business Plan competition will receive Cash prizes of Rs. 50,000(1st Prize), Rs. 30,000 (2nd Prize), Rs. 20,000 (3rd Prize) and training support, Mentoring support, opportunity to meet potential investors.
100 Rs. Entrepreneur Competition
1. Open for all students
2. Stall space will be provided
3. Participant to invest maximum 100 Rs. and generate maximum revenue.
4. Time - Feb 26 2022 - 11 am - 3 pm
5. Individual or group participation (Maximum team size 4)
6. Rewards – The money you earn + Medals and Certificates
Business Plan Competition 2019
Making a good business plan is an essential skill for the young entrepreneurs. Good planning will lead to their success in doing business. With the increasing ease of starting a new business, government policy changes, the number of students heading in that direction has increased. IMDR organized a 'Business Plan Competition' at an inter college level. The E-Cell responsible for entrepreneurship and innovation on campus organized this competition. The institutes participating were Brihan Maharashtra College of Commerce, Symbiosis College of Arts and Commerce, Savitribai Phule University, Dr. D Y Patil College of Arts and Commerce, Sai Balaji Society, Fergusson College and others.
The event was well organized and went on systematically. Every group was allotted their place. The competition was held at IMDRon 28th September 2019. The competition had around 20- 22 participating groups.They came up with innovativeand interesting ideas. Some of the plans were related to new agricultural products, some offered digital apps and many others. The competition was a two- level competition. The interesting titles wereRent-a-plant, Alexa to Anarkali, Probiotic in cattle feed, Natureware, InnerQuest, Handfree, Umbrella, Robust Cycles, Momozee, Purplezilla, Surpat, Feedo, Directtoowner.in, Happysipss etc.
IMDR facultyalso gave some insights to the participants which the participants found very helpful. All of them were happy to get this opportunity as they got to know more in areas where they lacked the adequate knowledge.The responses and queries from the audience gave them insights into market requirementsand customer preferences. They were judged them on various parameters. The winners were Fergusson College students who had a business plan named InnerQuest. It offered a platform to students for developing skills of their choice. They won the prize money of Rs. 20,000. They were the youngest of all participants and had a very good plan. The competition helped develop the zeal and maintain students' spirit.
All co-curricular and extra-curricular activities at IMDR are driven by students who are a part of different committees.Kudos to the E-Cell for successfully carrying out the competition!
All participants gave a feedback saying it was a great experience.This was an important contribution by IMDR E-Cell in developing entrepreneur skills among students.
Disha Khare, Media Cell
Photo Credit : Aarti Kumar, Media cell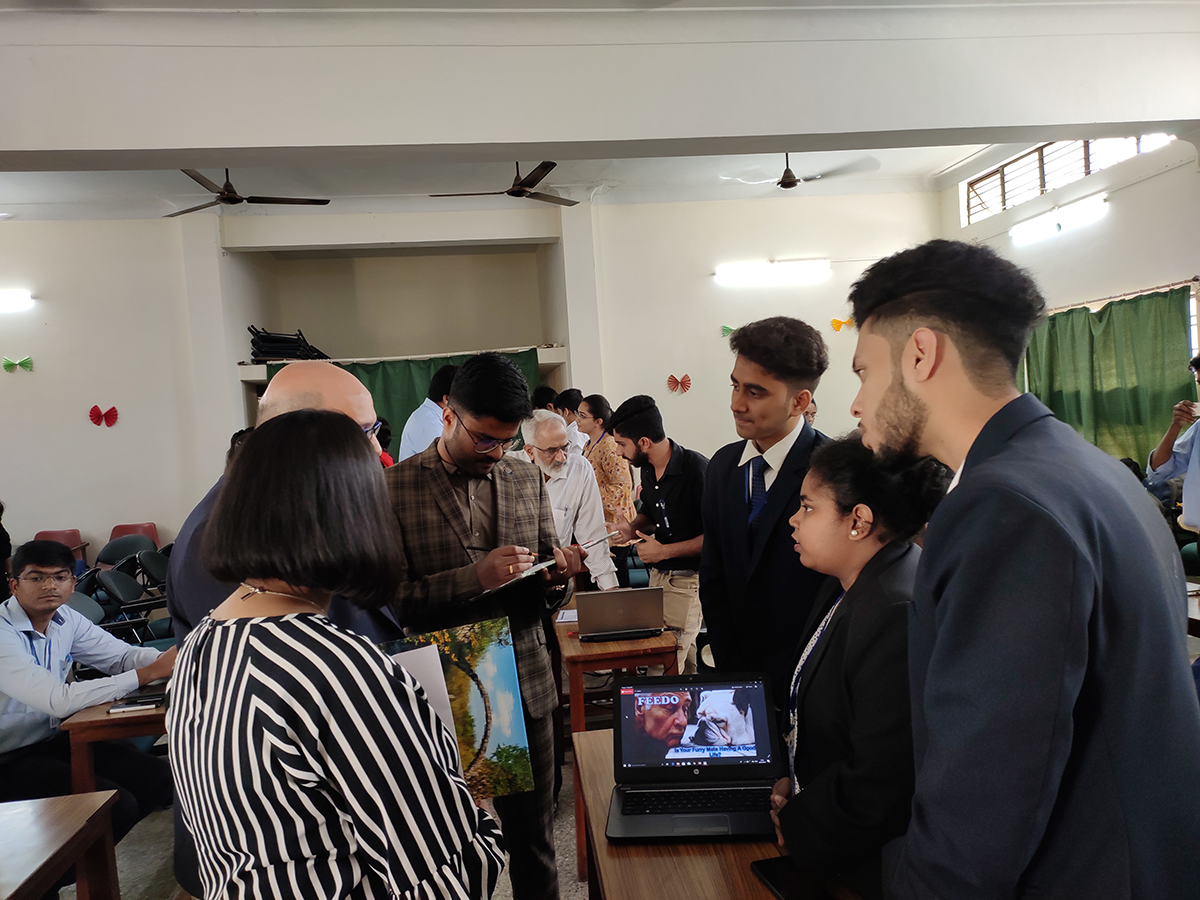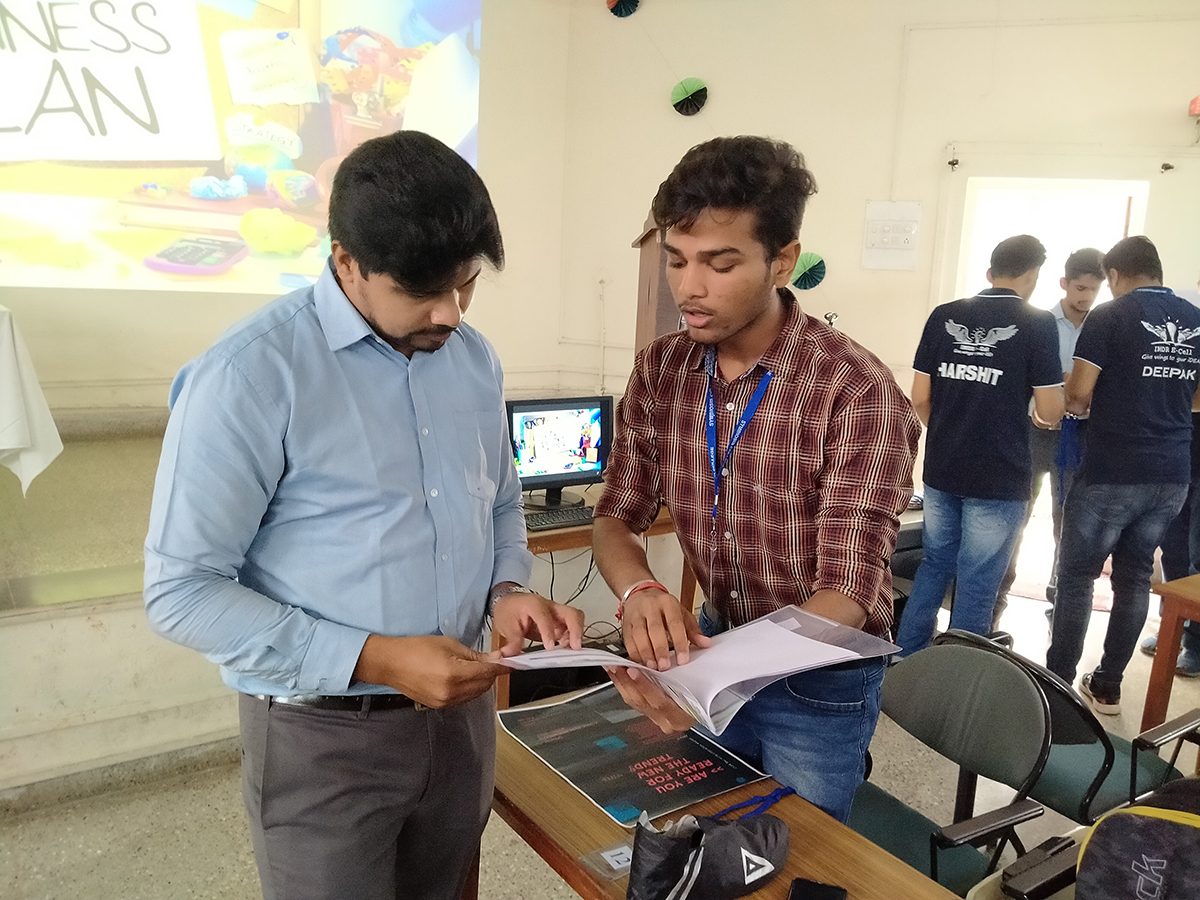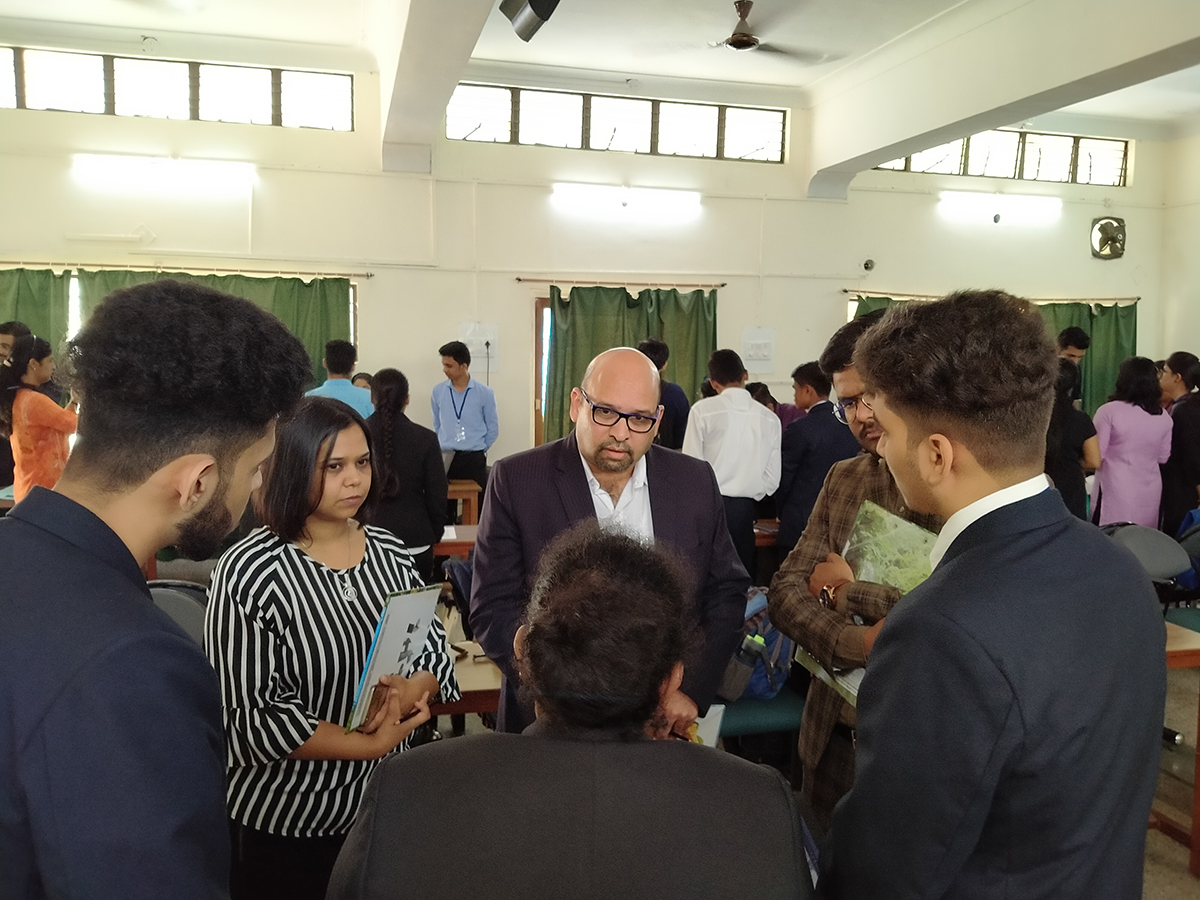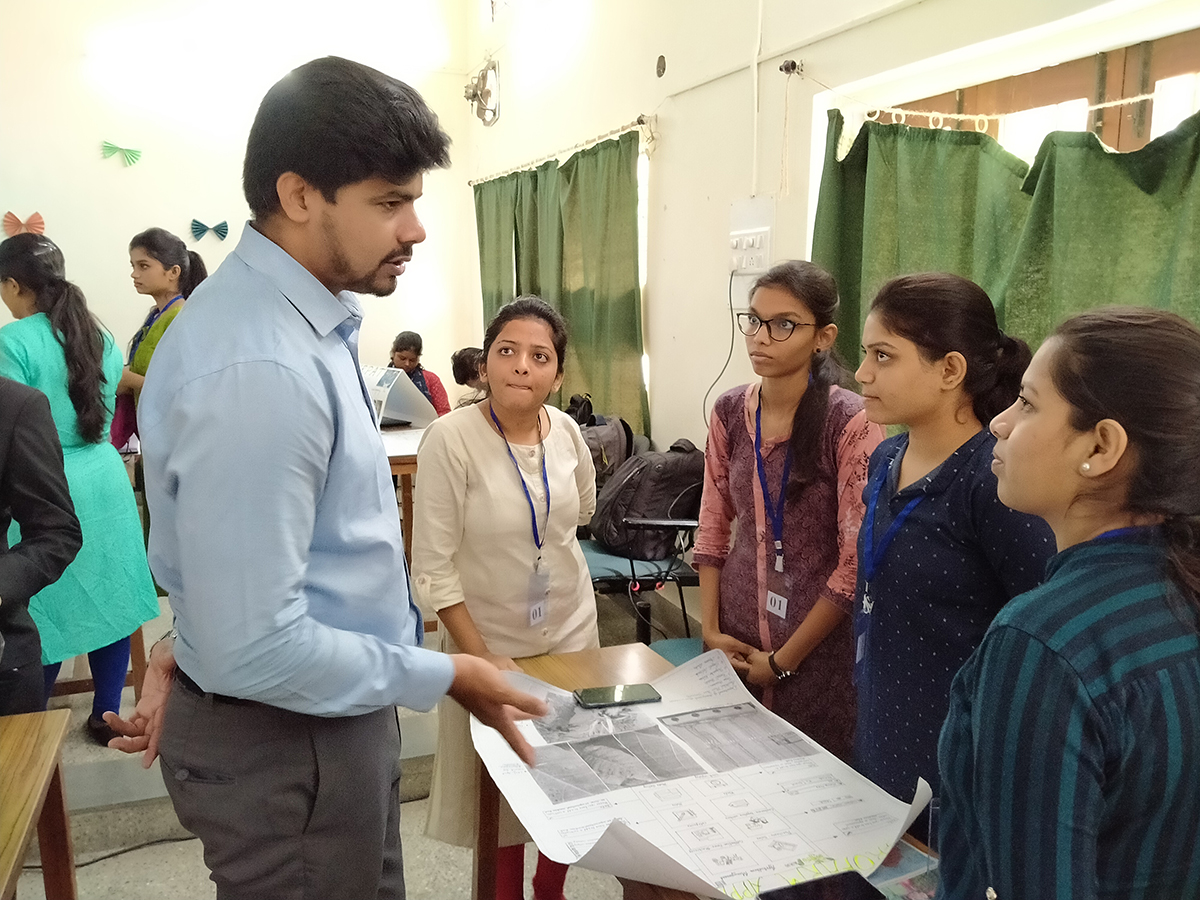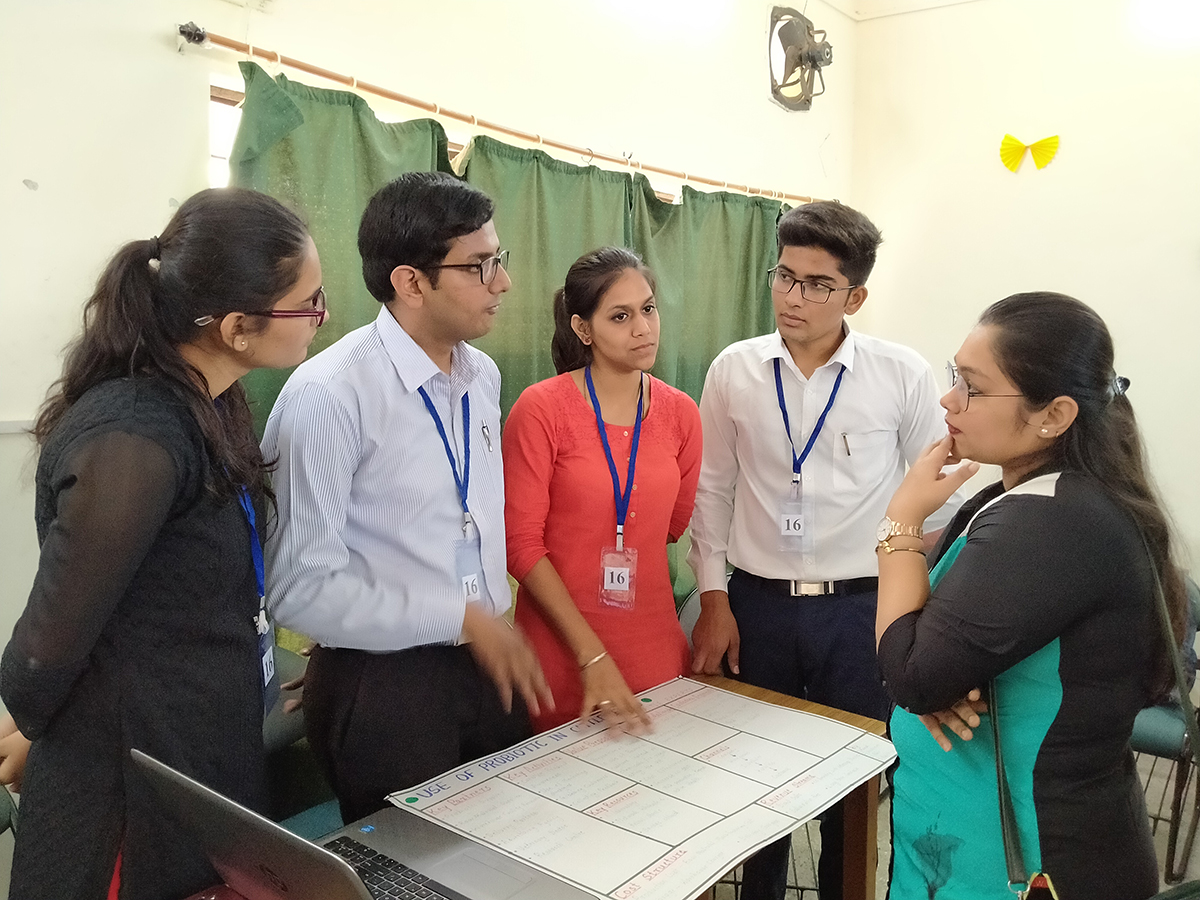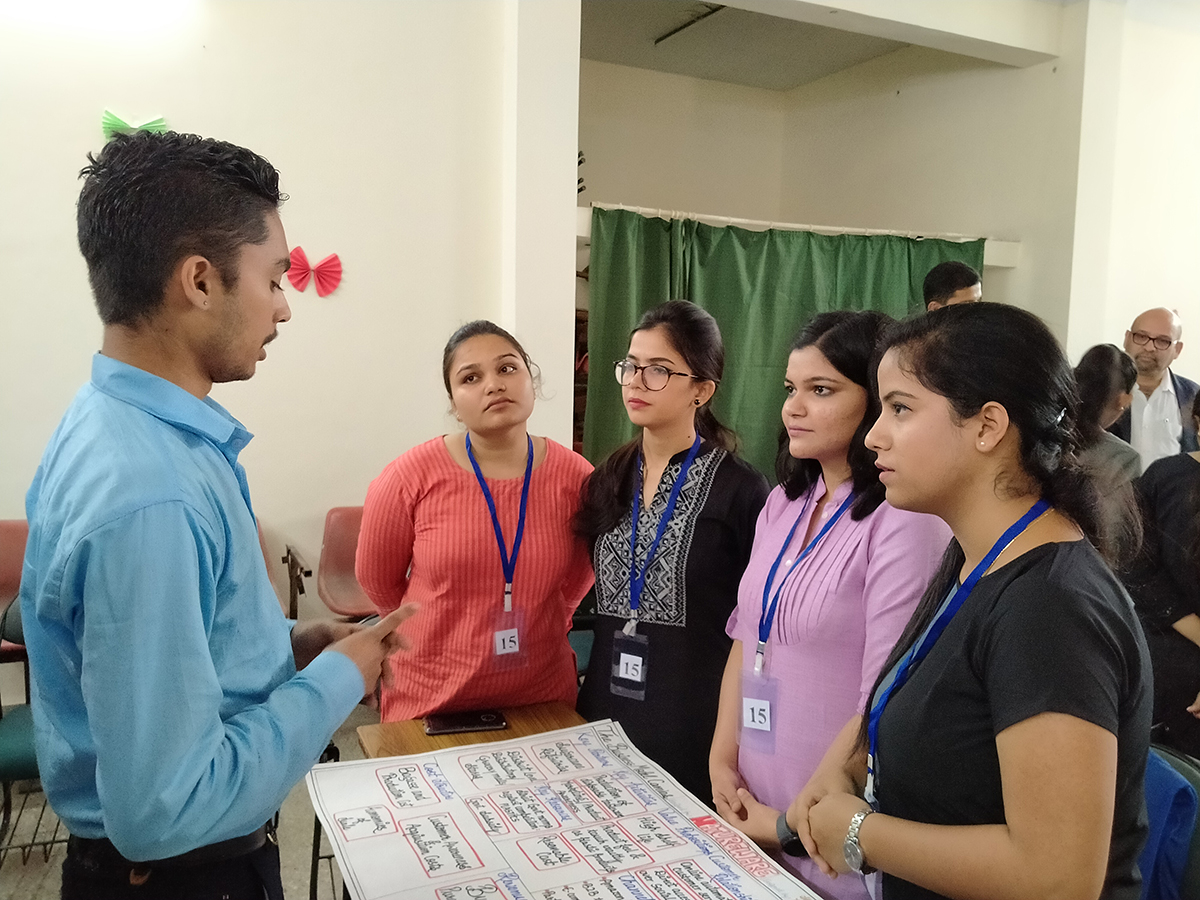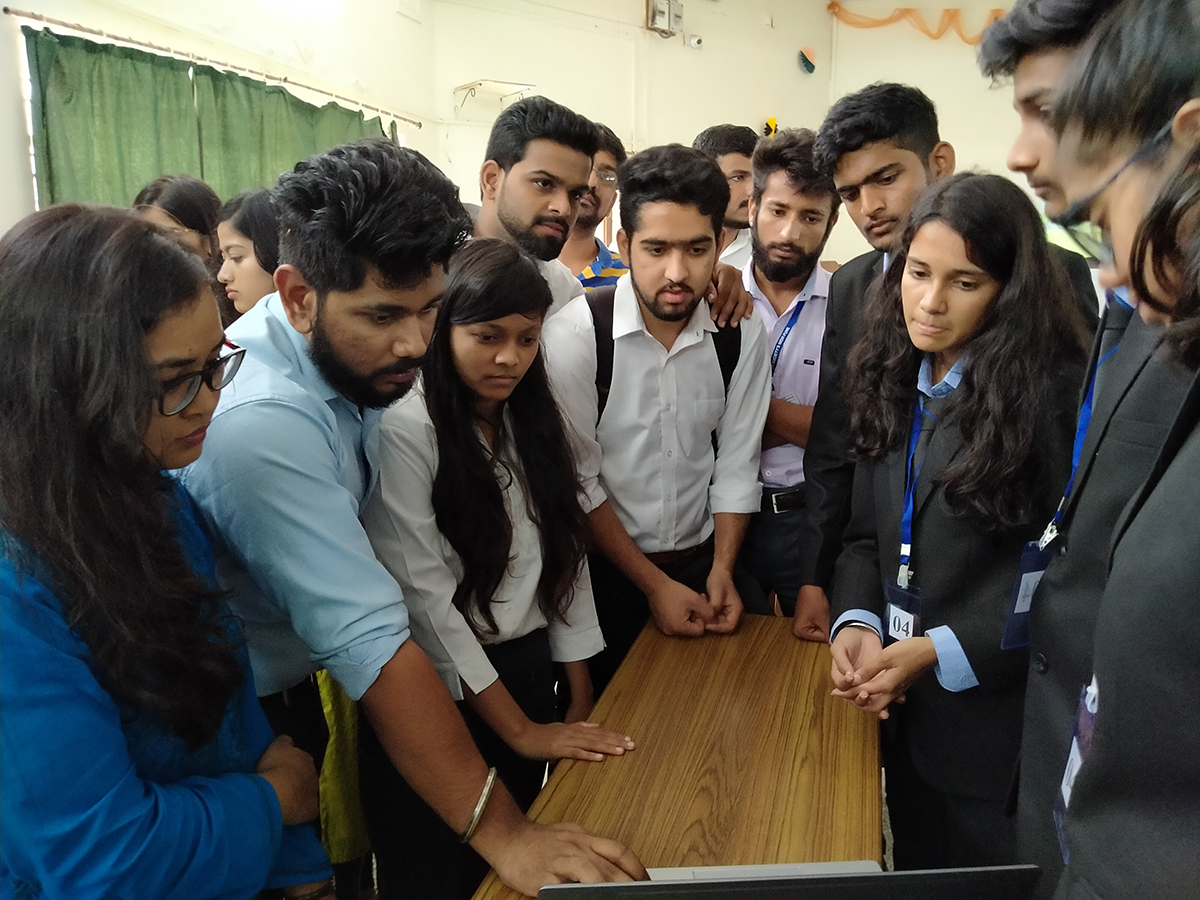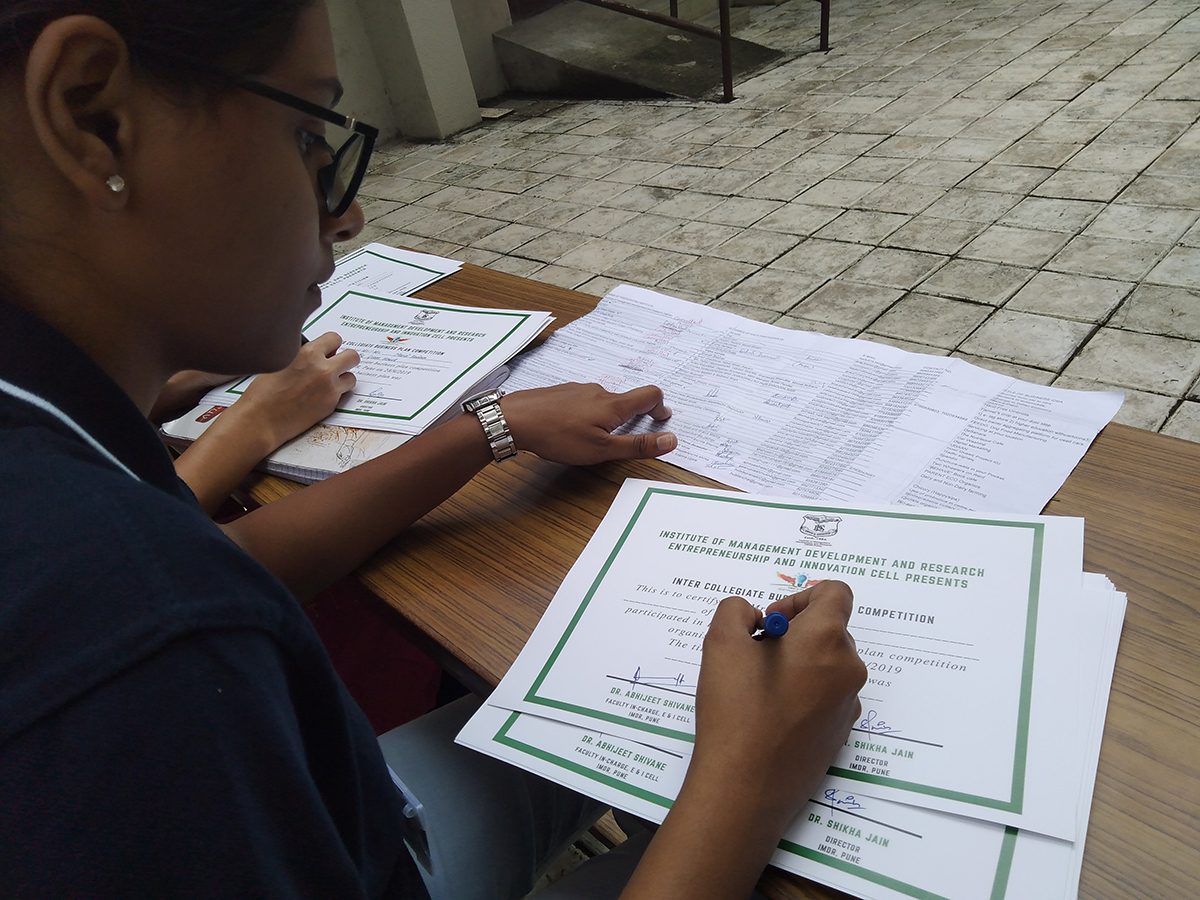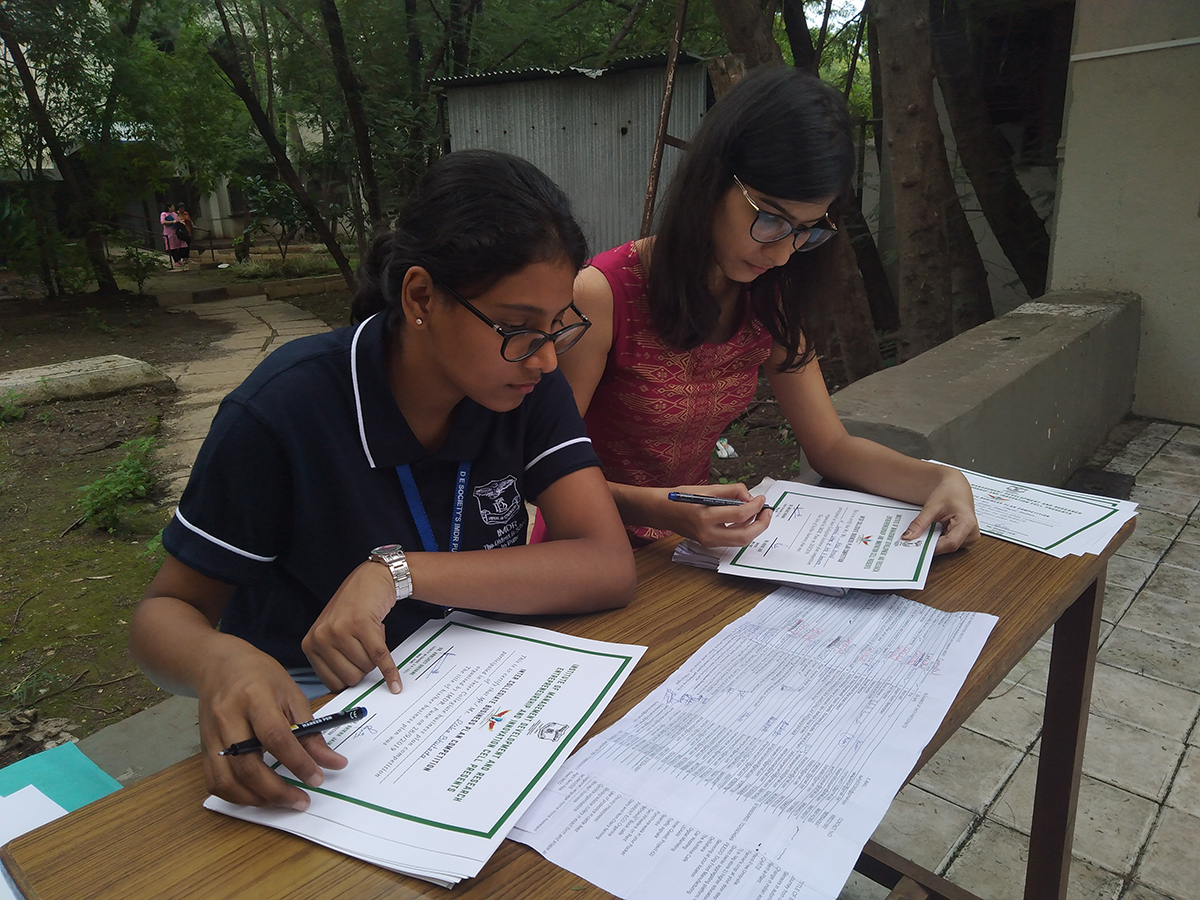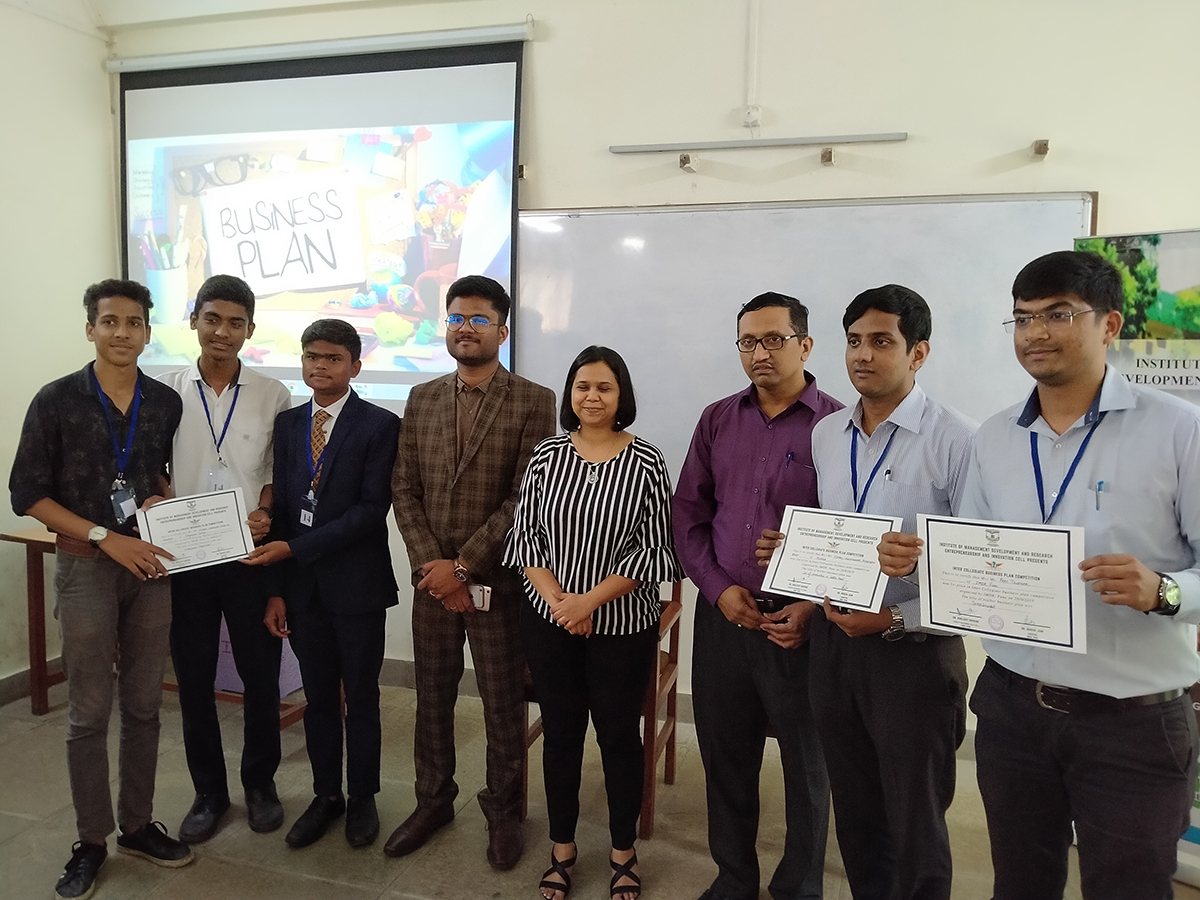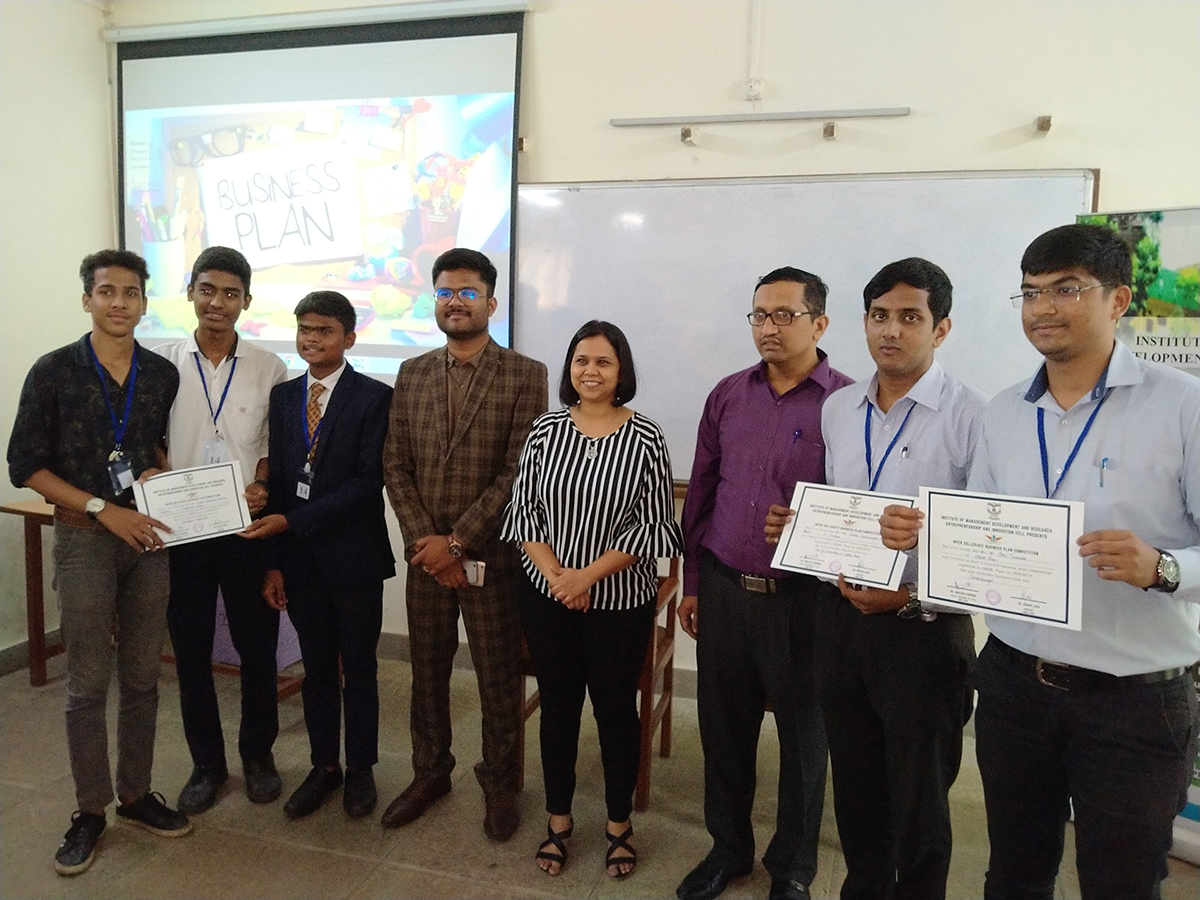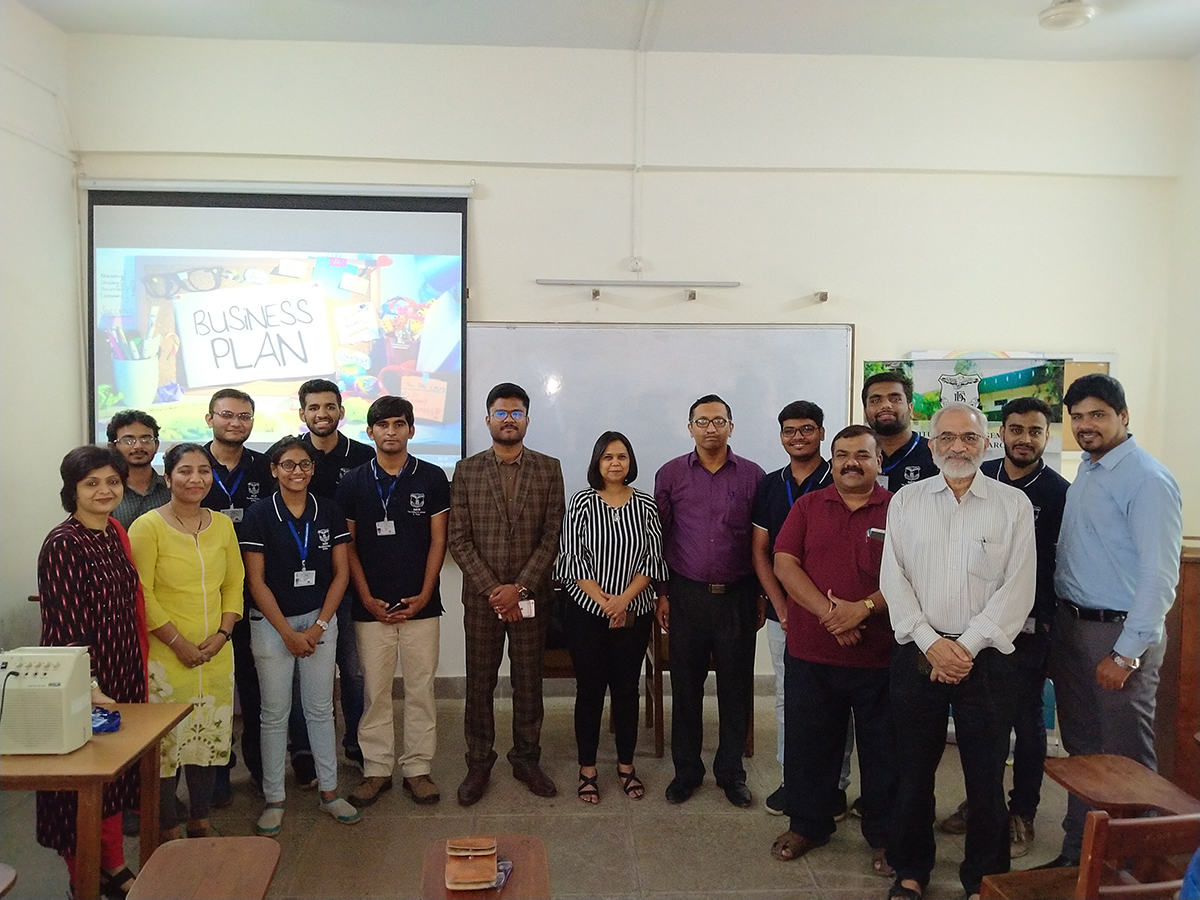 Workshop on Start up by Mayank Rajput (CEO, Robomaniax) (27thJuly, 2019)
The workshop on start-ups was held on 27th July of 2019 at IMDR by Mr. Mayank Rajput, the 28 year old CEO of Robomaniax Pvt. Ltd.It was organized and hosted by the Entrepreneurship& Innovation Cell (E & I Cell). The main aim of the workshop was to provide an intense interactive session for the students and the faculty of the Institute.
Dr. Abhijeet Shivane, Head of E& I Cell, introduced Mr.Mayank Rajput to the audience.He spoke about the prestigious background of the Institute and Deccan Education Society. He also briefed about the Employment market and the challenges occurring every year.
The Guest speaker, Mr. Mayank Rajput, spoke about his journey as an entrepreneur. He completed his graduation in Engineering from Jaipur, Rajasthan. He then started as an entrepreneur in 2013. It was back then when start up wasn't appreciated much. While narrating his story, he spoke about the Government institutes which support the efforts of budding start-ups. Another thing which he spoke about was the "Connectivity" which is most essential for an entrepreneur.
Another aspect he spoke about entrepreneurship was that an Entrepreneur should be a great team builder. He was glad that times have now changed and Start up is now a topic in trend.But he also added that a purely trending start up can be the first one to fail. He also threw some light on the fact that we want to do everything in our life but we don't have the requisite passion and the determination and the drive to do it. 'Josh Katham Nahi Hona Chahiye' was what he said.
He added that in this era of Start-ups,the first thing to be aware about is the resources available with us.He also mentioned that this awareness is more important than mereKnowledge.
He also said that an Entrepreneur should do everything as anEntrepreneur. He should create opportunities, start from scratch and most importantly, set a trend. An entrepreneur should have clarity about his ideas.
The address by Mr. Mayank Rajput was followed by a Q & A session where students asked their doubts and queries. Students asked questions regarding idea generation and as to how to apply for and acquire funds.He responded to the questions by saying that for every problem there is solution and that every solution is an idea. He added thatdon't just think for a small unit, think globally.
The workshop ended on a note whereMr. Mayank said it is important to always be in action to stay motivated. The workshop was effective and had an impact on the audience.