Report on Management Neophyte 22
5th November, 2022
Deccan Education Society's Institute of Management Development and Research (IMDR) organized Management Neophyte'22 on 5th November 2022 at Kundanmal Firodia Auditorium. Management Neophyte is an inter-college internship project presentation competition organized every year to provide a platform to budding MBA/PGDM professionals to share their internship learning and experience. The objectives of the competition is to motivate the second-year students by providing them an opportunity to present their work, to groom first-year students by asking them to attend the presentations of the selected good quality reports. Students from different colleges like MIT, Bharti Vidyapeeth, IMDR and All India Institute of Management Studies had participated in the event.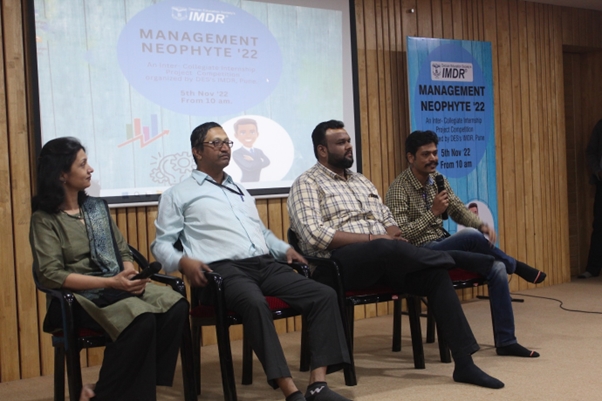 The panelist for the event were the Alumni of IMDR, Mr. Ajinkya Suryavanshi and Mr. Akshay Joshi. The event was hosted by PGDM-1 students, Aanchal Jaiswal and Aarushi Singh. After a brief introduction about the event and the panelist, Dr. Abhijeet Shivane, senior faculty member felicitated the judges. Rules were again revised to the participated students and then the competition started.
1:Rohit Patil from MIT,
Topic:Taxation in Crypto Currency"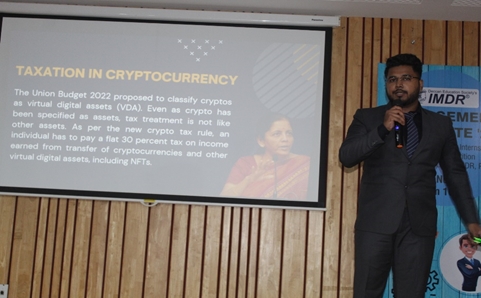 2:Ruta Padhye from IMDR,
Topic:HRIS with special reference to payroll and off-boarding".
3:Vedanti Pandav from IMDR,
Topic:Impact of employee engagemen tactivities on employee satisfaction".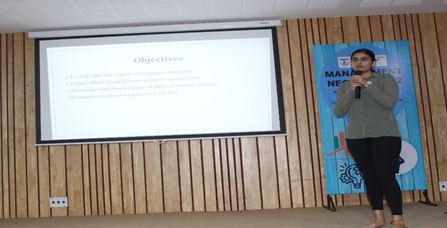 4:Jinal Vyas from IMDR,
Topic:HR operation with special reference with recruitment and on-boarding practices".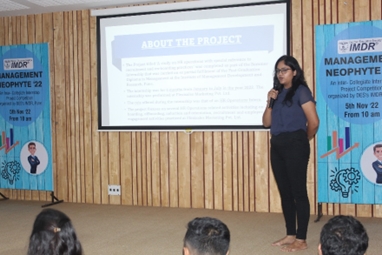 5:Bhavya Jain from MIT,
Topic:Analysis of change in campus placement drive process with special reference to neo soft technology".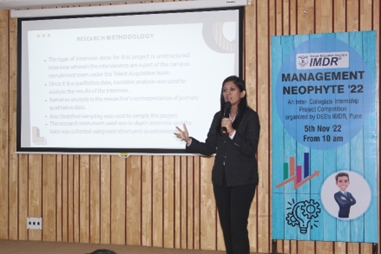 6:Rahul Choudhary from IMDR,
Topic: Accounts Payable for middle East and Africa".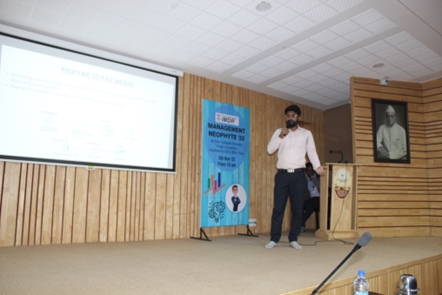 7:Anushka Raghuvanshi from Bhartiya Vidyapeeth,
Topic:HR Analytics-attribution analysis of NMD and overview of talent acquisition".
8:Siddharthi Gabure from MIT,
Topic:Study on recruitment and selection process of OpenView technology pvt. ltd with special reference to challenges faced by company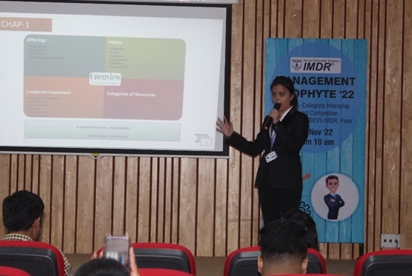 9:Yash Lunkad from IMDR,
Topic:Study different stages of Recycling of the coconut and marketing of the product".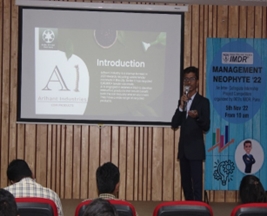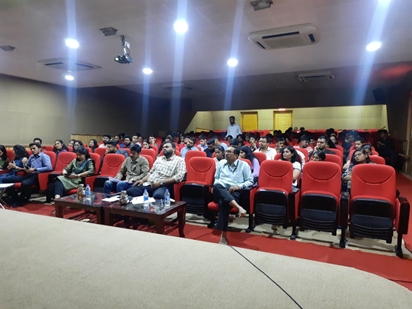 The results of the competition as declared by the judges were:
1st position –Rahul Choudhary –cash prize of Rs.10, 000 and certificate of participation
2nd position - Ruta Padhye -cash prize of Rs7000 and certificate of participation
3rd position - Jinal Vyas -cash prize of Rs3000 and certificate of participation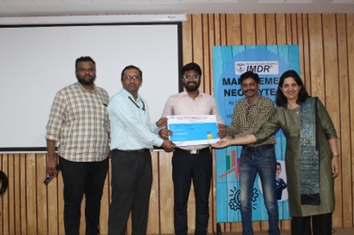 1st position: Rahul Choudhary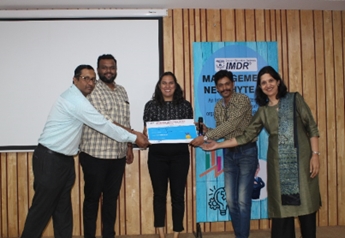 2nd position: Ruta Padhye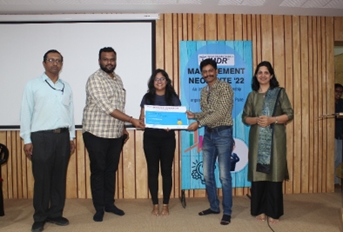 3rd position: Jinal Vyas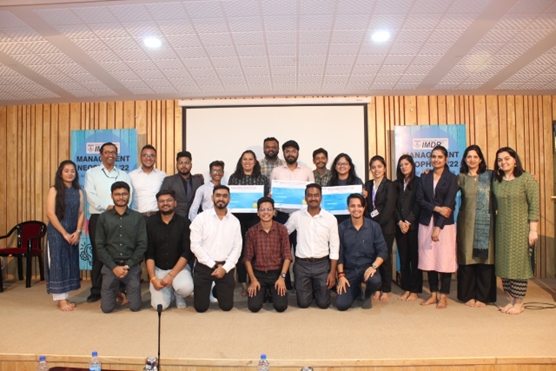 Core team of Management Neophyte with the participants
The event concluded with formal vote of thanks by Aanchal Jaiswal.