Click to download placement report(3 yrs).
Click to download Placement Report for 2019-2022.
Placement Report: IMDR 48th Batch (2022-23)
IMDR Pune recently concluded its Final Placements for the latest batch of its flagship program. The institute reported a successful placement season, catering to the needs of its students and showcasing its commitment to providing quality education and placements. Here are the key highlights of IMDR Pune's placement season: The institute had a notable batch size, with all 180 students participating in the final placement process. IMDR Pune successfully achieved a 90% placement rate, further solidifying its reputation as a reliable institution for management education and placements.
This batch of students at IMDR Pune showed remarkable adaptability by embracing hybrid learning methods amidst the ongoing challenges presented by the pandemic. The institute's ability to seamlessly transition to virtual platforms for both academic activities and placements reflects its commitment to providing a conducive learning environment.
IMDR Pune attracted a diverse range of recruiters spanning various sectors, including Banking, Financial Services, and Insurance (BFSI), as well as other domains such as Consulting, FMCG, ITES, and more. This breadth of recruiter engagement highlights the versatility of the program and the institute's strong industry connections.
The BFSI sector emerged as a major recruiter during the placement season, hiring a significant proportion of students. This indicates the recognition of IMDR Pune's management graduates' skills and suitability for roles within the financial sector.
Notable companies such as ICICI Bank, HDFC Bank, Axis Bank, Kotak Mahindra Bank, and others from the BFSI sector actively participated in the placement process. Their presence underscores the trust and value these organizations place in IMDR Pune's talent pool.
IMDR Pune reported a range of salary increases for its graduates. The highest salary package offered was 12.9 lacs, reflecting the quality of talent nurtured by the institute. The average salary stood at 6.74 lacs, showcasing the well-rounded opportunities available to the students. The modal salary, a strong indicator of the most frequently occurring salary figure, was reported at 8.29 lacs.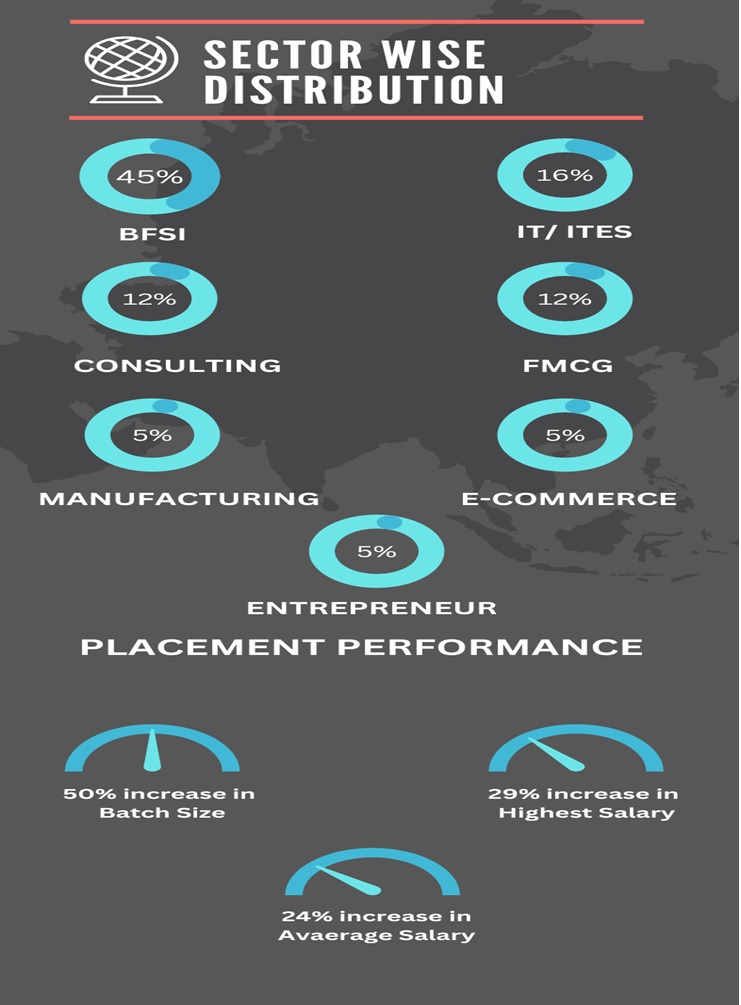 Placement Highlights:
Total Placements:
138 students secured placement offers, marking a significant achievement for both the institute and its students.
Entrepreneurial Ventures:
8 students exhibited their entrepreneurial spirit by initiating their own ventures, showcasing IMDR's dedication to nurturing innovation and self-reliance.
Overall Placements:
An impressive 90% of the batch, comprising 146 students, were successfully placed in various sectors, affirming IMDR's role in producing industry-r eady professionals
Sector-wise Placement
The placement activities for the 48th Batch of IMDR were diverse and witnessed participation from various sectors, showcasing the versatility of the students and the recognition of the institute's curriculum by a wide range of industries. The sectors that participated in the placement process included:
Banking and Financial Sector:
The Banking and Financial sector emerged as a significant recruiter, demonstrating the students' strong analytical and financial acumen. This sector absorbed 66 students which is a substantial portion of the placed candidates. The following companies from this sector selected students from the batch: Tata Capital, ICICI Bank, HDB Financial Services, HDFC Bank, Tata Capital, Federal Bank, HFFC, Bada Finance, ICICI Prudential, Bajaj Allianz, SBI General, Axis Bank, Digit Insurance andAXA.
Consulting:
The consulting sector continued to show interest in IMDR's graduates, highlighting their problem-solving skills and strategic thinking capabilities. Consulting firms offered roles across domains such as management consulting, strategy, and operations. The sector provided employment to 13 students and the companies consisted namely, Noboru World, Data Horizon, Markets & Markets, Etravell, Inteliment, Mitibase, And HR Solution and Arth Business Consultancy.
IT and Technology:
The IT and Technology sector provided opportunities for students interested in digital transformation, Human Resource Management, and data analytics. These roles were reflective of the students' technical prowess and adaptability to modern technological trends. Around 13 students were [placed in various roles in this sector. The companies that recruited students were Knowlathon IT Services (I) Pvt. Ltd., Neilsoft, nCircle, TCS, Data Horizon, Tech Spammer Info Pvt.Ltd, Velsera, KPIT, TCS, Automatic Infotech, SmartCloud IT Consulting Services andCapeGemini.
FMCG and Consumer Goods:
Companies in the Fast-Moving Consumer Goods (FMCG) and Consumer Goods sectors extended offers to students for roles in sales, marketing, and brand management. These placements recognized the students' marketing skills and understanding of consumer behaviour. The companies that approached the institute were Godrej & Boyce Manufacturing, Adani Wilmar, Bajaj Consumer Care, Hindustan Pencils, Jubilant Motors and Desai Brothers Foods Ltd.
Manufacturing:
The manufacturing sector showcased interest in hiring students for roles in operations, supply chain management, and production. IMDR's emphasis on practical skills and industry exposure contributed to these placements. The companies that approached the institute for placements were Garage Works, Velsera, Sudarshan Chemicals, Yokohama, Automatic Infotech, DIVGI Torque and National Centre for Cell Sciences
E-commerce and Retail:
With the growing prominence of e-commerce and retail, students secured roles in areas such as e-commerce operations, business development, and retail management, reflecting their adaptability to changing market dynamics. The following companies approached the institute for placements Reliance Retail, Interior my room, Givven Logistics and Yantra Live
Entrepreneurship:
A notable feature of this batch was the entrepreneurial spirit exhibited by 8 students who embarked on their own entrepreneurial journeys. IMDR's nurturing of innovative thinking and business concepts led to these ventures. The Placement Report for IMDR's 48th Batch (2022-23) showcases the institute's commitment to fostering a holistic educational environment that prepares students for a diverse range of careers. The impressive placement statistics and the success of students venturing into entrepreneurship underscore the institute's efforts in providing both traditional and innovative career pathways. As IMDR continues to evolve and adapt its curriculum, it remains a strong contender in producing industry-ready professionals and visionary leaders across sectors
Our Recruiters: