NBA Accreditation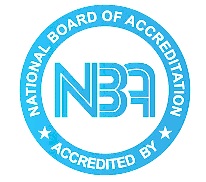 Institute of Management Development and Research (IMDR) achieved a significant milestone in its pursuit of excellence. In February 2023, IMDR proudly received accreditation from the National Board of Accreditation (NBA), marking a commendable achievement for our commitment to delivering quality education.

The accreditation, represented by letter number F. No. 28-662-2022-NBA, serves as a testament to IMDR's dedication to maintaining high standards in education and fostering an environment that nurtures both academic and professional growth.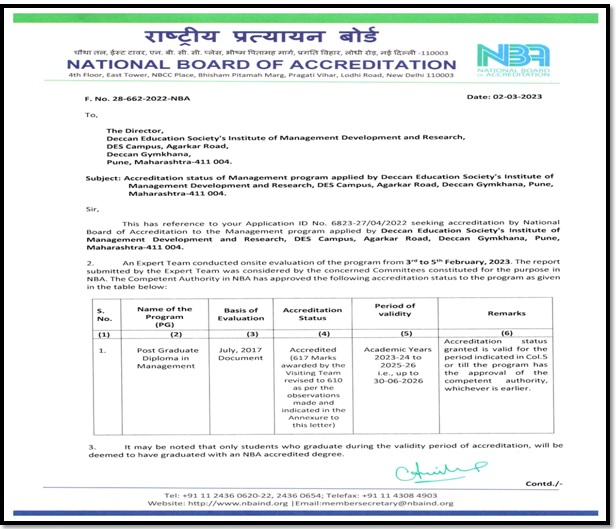 Take the opportunity to visit the official NBA accreditation page using the link provided:

https://www.nbaind.org/accreditationprogram/AccreditedProgram?ID=KLLIuWN+D1KLv0TtGxXolA==&name=m4MBw5SJp+xaN39TiWaH+PbOAo8maWk4tztngxcskrv46Uvr0EvqB8Y6LcaX0mDb3RIZWjG+NZ2Qd5Cwf94n5A==

Embracing the pride of being recognized as an NBA Accredited PGDM institute, it ensuresthat

Quality Assured and Industry Recognized PGDM Program.
NBA's accreditation signifies IMDR's adherence to rigorous quality benchmarks in its management education programs.
This accreditation enjoys increased credibility and recognition within the corporate and academic sectors.
This recognition enhances the employability and placement prospects of IMDR's students.

Benefits for Students:
Students at IMDR stand to gain from a curriculum aligned with industry demands and evolving trends.
The NBA accreditation assures students of a well-rounded education that prepares them for the dynamic business landscape.