Fellow Programme in Management (FPM)
About - Fellow Programme in Management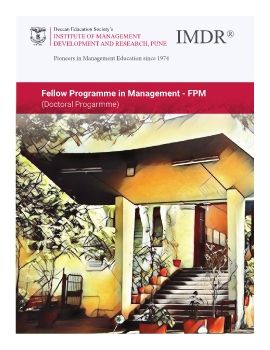 "Click here for E-Book "FPM Brochure (Flip Book)"
INTRODUCTION
The Fellow Programme in Management (FPM) at IMDR® (Institute of Management Development and Research) is a highly reputed and rigorous doctoral program designed for individuals who aspire to pursue advanced research and academic careers in the field of management.
FPM at IMDR:
Vision Statement:
To be a leading center of excellence in research, innovation, and knowledge creation, fostering groundbreaking advancements in Management and addressing critical challenges that positively impact the industry, society, and the country. We strive to be at the forefront of groundbreaking research, making significant contributions that address current and future challenges, and shape the future of the Management field.
Mission Statement:
The mission of our Research programme is to create a vibrant and dynamic research environment that promotes interdisciplinary collaboration, fosters creativity, and nurtures a culture of inquiry. We are committed to conducting high-quality, pioneering research in the field of Management that not only expands the frontiers of knowledge but also addresses critical societal needs. Through our research endeavours, we aim to drive innovation, enhance understanding, and provide evidence-based solutions that positively impact industries, communities, and the nation.
Objectives:
Provide a platform for scholars and students to conduct advanced research in various fields.
Provide opportunities for students to gain the knowledge and experience they need to succeed in the world of academia.
Create a hub for interdisciplinary research, bringing together faculty members, students, and industry partners to address complex problems and explore new ideas.
Provide a supportive environment for students to develop their research skills and explore their intellectual curiosity.
Contribute to the academic community, by shaping the direction of research and providing innovative solutions to real-world problems.
Areas of Research
IMDR encourages researchers to undertake interdisciplinary areas of research as equips FPM participants with a holistic perspective. By drawing from various fields such as economics, marketing, psychology, finance, and technology, you gain a comprehensive understanding of the multifaceted challenges faced by organizations. This broader knowledge enables you to think critically, develop innovative solutions, and approach complex problems from different angles.
Focus areas for the Fellow Programme in Management at IMDR® include:
General Management: A doctoral degree in general management emphasizes a comprehensive understanding of the business environment and effective organizational management practices. It encompasses a broad range of topics that are essential for managing organizations efficiently and successfully.
Marketing Management: A doctoral degree in marketing management centers on the formulation and execution of marketing strategies, gaining insights into consumer behaviour, and cultivating powerful brands. It encompasses a wide array of subjects related to marketing, advertising, digital marketing, brand management, and more.
Human Resource Management and Organisational Behaviour: A doctoral degree in Human Resource Management and Organizational Behaviour places emphasis on cultivating expertise in talent management, employee engagement, and understanding organizational behaviour. The program encompasses a comprehensive range of subjects, including talent acquisition, employee relations, industrial relations, and other relevant areas related to effective human resource management within organizations.
Operations Management: A doctoral degree in Operations Management centres on the field of operations management, with a primary focus on optimizing business processes, enhancing supply chain efficiency, and overseeing quality management. The program covers a wide range of subjects, including operations management, logistics, supply chain management, and other related areas critical to effectively managing and improving operational processes within organizations.
Financial Management: A doctoral degree in Financial Management emphasizes the study of financial analysis, investment management, and corporate finance, encompassing areas such as investment banking, financial planning, and corporate finance. The program delves into a comprehensive range of subjects that are essential for understanding and excelling in financial management, enabling individuals to gain expertise in analysing financial data, making strategic investment decisions, and effectively managing financial resources within organizations.
Sustainability and CSR: A doctoral degree in Sustainability and Corporate Social Responsibility (CSR) centres on the management of energy resources and the influence of business operations on the environment. The program emphasizes the development of sustainable business practices and strategies to minimize the environmental impact of operations. It encompasses topics such as the Renewable Energy industry, Environmental Consulting, and Sustainability Management, enabling individuals to gain expertise in promoting environmentally conscious practices, implementing sustainable strategies, and effectively managing the social and environmental aspects of organizations.
Organizational Management: A doctoral degree in Organizational Management emphasis on understanding and improving organizational structures and processes to enhance efficiency, productivity, and overall performance. The program delves into areas such as team dynamics, employee motivation, communication, and conflict resolution, with a focus on creating a positive and productive work environment.
Agri-Business Management: A doctoral degree in Agri Business Management centres on the business aspects of agriculture, encompassing areas such as marketing, finance, and supply chain management within the agricultural industry. The program focuses on agribusiness, agricultural marketing, rural development, farm management, agricultural finance, and commodity trading.
Why to Choose IMDR® FPM
Career Advancement: Completing an FPM course from IMDR® can significantly enhance career prospects, particularly for individuals interested in pursuing an academic career or research-oriented roles in the corporate world.
Research Focus: FPM course at IMDR® are primarily designed for individuals interested in pursuing a career in academia or research. The program offers rigorous training in research methodologies, critical thinking, and analytical skills, allowing participants to contribute to the advancement of knowledge in their chosen field.
Specialization and Depth: FPM course at IMDR® provides an opportunity for individuals to specialize in a specific area of management or a related field. Students can delve deep into their research interests, gaining expertise and in-depth knowledge that can set them apart in their academic or professional careers.
Faculty Mentorship: FPM students at IMDR® typically work closely with experienced and renowned faculty members who act as mentors throughout their research journey. Faculty members provide guidance, support, and feedback, helping students refine their research ideas, develop research proposals, and navigate the complexities of their research projects.
Networking Opportunities: FPM program brings together a diverse group of participants from various backgrounds and industries. This creates a valuable networking opportunity, allowing students to interact with peers, faculty, and industry experts, leading to potential collaborations, research partnerships, and career opportunities.
Personal Development: Undertaking an FPM course requires perseverance, discipline, and the ability to work independently. The program at IMDR® challenges students to think critically, push boundaries, and develop a strong work ethic. It also helps individuals enhance their writing, presentation, and research skills, contributing to their personal growth and development.
Admission Eligibility of Students
a. Master's Degree or equivalent in Engineering and Technology/ Management/ Economics/ Social Science/ Biological Science/ Pure Science/ Commerce/ Humanities with first class shall be considered for admission to Fellow Programme.
b. Those appearing for their final examination in the respective discipline can also apply. Such students if selected shall be provisionally admitted provided they complete all requirements in obtaining their Master's Degree before 30th September of the year of admission. The admission of these candidates shall remain provisional until they produce the mark sheet proving that they satisfy the eligibility criteria.
Admission Procedure
a. Application Procedure
The application shall be made in the prescribed form available with the Institution. Attested copies of all the necessary Certificates and testimonials are to be attached with the applications. The candidate must submit an abstract of about 5000 words on the area of research interest (tentative research proposal) along with his/ her application.
b. Selection Criteria
Selection for the Fellow Programme in the Institutions approved by AICTE for the Fellow Programme shall be on the basis of the following criteria:
Academic qualifications and work experience
Tentative research proposal and its presentation before the Selection Committee
Personal interview
c. The decision of the Institution Selection Committee regarding admission shall be final. Communication shall be sent only to the selected candidates. The Institution shall not entertain any queries or correspondence in respect of those not selected.
Fee Structure
Application Fee – Rs.1,500
Registration Fee – Rs. 2,500
Course Fee – 2,00,000 per year for Year 1&2, 1,00,000 for Year 3-5, as applicable
Course Structure
Course Duration – 04 years
Total number of seats - 10
Course Study/ Credit Requirements
In partial fulfillment of the requirement of the Fellow Programme, a minimum number of Course credits are required to be earned as prescribed below.
a. Credit Requirement
Particular
Code No.
Course Title
Credits
Module 1
FP01
Research Methodology
3
FP02
Managerial Statistics
3
FP03
General Management
3
FP04
System Approach to Management
3
Module 2
FP05
3 Stream specific Courses of 3 credits each
9
FP06
Credit Seminar (General)
3
Module 3
FP07
Credit Seminar (Specific)
3
FP08
Review paper based on the literature on the Thesis related topic.
3
Total Credits
30
b. Details of Courses and Seminar
The stream-specific Courses and Seminars shall be decided as approved by the Director on the recommendation of the candidate's Guide(s) and the Research Advisory Committee.
c. Duration for earning Credit.
All the credits specified above shall be earned within a maximum of four years from the date of admission to the Programme. Extension after the four years shall be approved by the Director for a period of one year with a review of progress every six months. Final approval shall be given by the Director of the Institution.
d. Credit Course Requirement
A research scholar shall undergo 4 Courses of the total 12 credits in the first module and during the second module he/ she shall undergo three streams-specific Courses of 9 credits and give three credit Seminar on general management topic in the third module, the candidate shall give three credits Seminar and write a review paper on the literature related to his/ her research topic for publication purpose of 3 credits. Thus, a candidate shall earn 12 credits in the first and second module and 6 credits in the third module together adding up to 30 credits in all.
e. Grading System of Credit Courses/Seminar
The minimum of CGPA of 6.5 on a 10-point scale or 60% is required for passing Course/ Seminar. A candidate getting less than 60% shall be given one more opportunity to repeat the Course/ Seminar. If he/ she still does not pass in the Course/ Seminar, he/ she shall be terminated from the Fellow Programme.
Contact us.
Dr. Sanmath S. Shetty
9960253098
fpm@imdr.edu
Institute Of Management Development and Research,
DES Campus, Agarkar Road,
Deccan Gymkhana,
Pune - 411 004